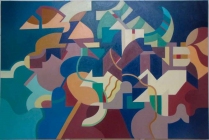 Angelo was born during World War II and raised in a small coal-mining town in southeastern Colorado. His parents were first generation Italians who married during the Great Depression. With limited means, they provided for their five children.
Angelo graduated from a small Catholic School in 1961. After attending Regis College in Denver Colorado for one year, he transferred to the University of Colorado School of Engineering. It was during that year that he made the decision to change his major and study fine arts.
In 1966, Angelo graduated with the Bachelor of Fine Arts with a major in sculpture. After working for the Denver Department of Welfare as a caseworker, he realized this wasn't his career path. He returned to U. of C. for graduate studies in fine arts and received his Master of Fine Arts in August of 1969.
That same month, Angelo, his wife, and their son moved to Boston Massachusetts. When he arrived there he was hired by The Art Institute of Boston as a part-time faculty member in the Foundation Department. The following year he was made full-time faculty.
In 1986, he remarried and had two children. In 1987, Angelo became the Dean of Admissions followed by an appointment as Dean of Students, and later as Academic Dean. During 2002/2003 he was Acting Dean/Director of AIB. In 2007, Angelo returned to a full-time faculty role. During the twenty years in administration, it was very difficult to find the time and space to paint so he spent his creative energy making numerous small drawings and studies for paintings.
Since 2007, Angelo has experienced a rebirth of his love of painting and has devoted much of his time outside of teaching to that endeavor. In 2015 he retired from his work in Higher Education after forty six years.